Brute force password python. Python Script for facebook Brute force Attact ~ hb technical blog 2019-02-01
brute force password python
Thursday, January 31, 2019 10:29:18 PM
Andre
Instagram
It is very slow, due to strings being immutable. It is a reasonably oversimplified attack that does not need heaps of labor to setup or initiate however the most disadvantage is that it's terribly hardware intensive. FormNotFoundError: no form matching nr 0 Most the time i ended up getting this error even though there is a form element in the page. Its a fun way but not efficent :D! Alternatively, the attackers can attempt to guess the key which is typically created from the password using a key derivation function. Following paragraph gives a vague idea of how much time it can take to find right combination in the worst case scenario. I think I need to do some reading around threading and use-cases etc.
Next
How to Brute Force ZIP File Password Using Python
This will help us automating most of the stuff which we would have to manually perform. . Please do not illegal activity. Folder Lock is a data security software that is allows its users to encrypt thier files and folder. PyPy alleviates some of the pain, but generally Python is not the right tool for the job. We have an awesome standard library for this: pexpect.
Next
Create SSH BruteForcer in Python
Basically an attacker trying many passwords with the hope of eventually guessing correctly. But this is actually the solution: for word in liDict: if pdfReader2. You should try both the uppercase and lower-case form of each word. Likewise if you just want the code itself do not bother reading the whole just the 1st part of the 1st section tutorial as I attach a copy of the code below. His wide range of all product experience has helped to develop his overall systems security knowledge. If this method returns the integer 0, the password was wrong and your program should continue to the next password.
Next
Python: Cracking SSH server login via Dictionary Brute Force attack
After that, put your dictionary path where exist your dictionary and press enter button and wait. See the page for help clarifying this question. Or perhaps some good reading material if I'm way off base with what I want to do? His experience in the Information Security sectors is equally complemented by assignments undertaken for heavyweight world renowned corporations. I feel like there is a better way of doing this using a loop or something like that, but im still trying to figure that out. Regarding the threading; it's definitely possible I've got some fundamental misunderstandings about how that works, but on re-reading the code, it's obviously not going to work the way I'm trying to get it to work - which is to spawn multiple processes to try and find the correct password quicker. The output is that it prints True and then after minutes of work it doesn't give anything.
Next
Password Brute Force
I believe that each item in either of those contains multiple, space-separated words that you still need to split out. This is not necessary but if you are planning on leaving it running for a long time then you would most likely want it to stop at some point as once it gets past a certain number of characters, it is most likely not working correctly. Also, it looks like you messed up the indentation while posting? What am I doing wrong? Also, lines 32 and 33 are superfluous; the code looks better without them. Establishing connection and checking the possibilities Here is the final python code. In Cracking, what an attacker have to do is just submit the query until the right one is found, meaning looping over the same process until a specific condition occurs. Finally you need to print off their password so that they know the program correctly identified their password. The above program is only for education purpose.
Next
Python Script for facebook Brute force Attact ~ hb technical blog
The lock sounds like it effectively hobbles threading full stop when using Python? Error:AttributeError: 'list' object has no attribute 'split'Suggestion how to do a split is appreciated. In real life I would do it a bit differently. Either the example compiles cleanly, or causes the exact error message about which you want help. Password Length : produce a word of bound length 8 — sixteen characters. Password Brute Force Possibly Related Threads. Brute Force Attack Brute force is the easiest way one can implement to recover lost passwords Yet it can take literally ages to crack one. You will saw, the our program check all possible match in our dictionary and find key.
Next
Brute Force A Website Login In Python
I'll answer your first question separately. Could you please tell if this script could handle these? I show it like this in order to be easier for you to understand what is going on. This will be used later to tell the in-built function itertools. It can be for loop or while loop. Go through itertools docs for more info. Initializing browse object Initialize using mechanize. So there is no need to explicitly do it yourself: range random.
Next
Python Brute Force algorithm
As I already said - use loop to change the number of repeats. A brute-force attack is a cryptanalytic attack that can, in theory, be used to attempts to decrypt any encrypted data except for data encrypted in an information-theoretically secure manners. Thanks for looking at the code! Longer passwords, passphrases and keys have more possible values, making them exponentially more difficult to crack than shorter one. I'd love an idea of how I could work threading into this program though, if you have any suggestions? The above program is only for education purpose. Thank You for reading this article. Below is the same script but with a more fluid character set using letters, numbers, symbols, and spaces.
Next
Python: Cracking SSH server login via Dictionary Brute Force attack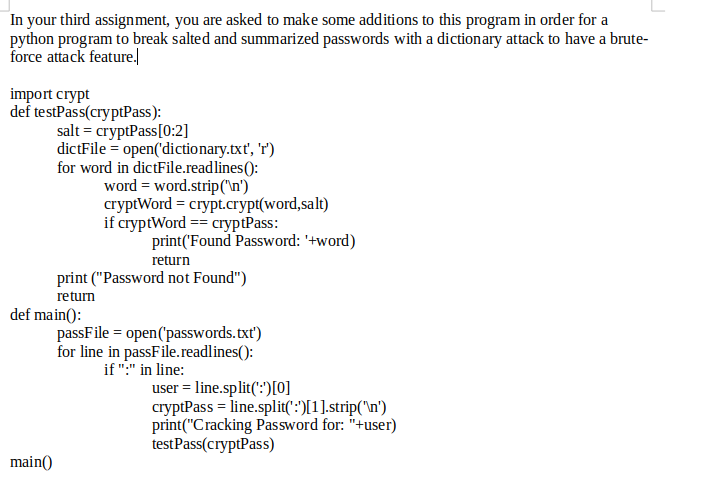 Then you should tell the user how long it took to find their password as well as how many attempts. This attack uses so many possible answers. Basically, this involves checking all possible combinations of passwords until the right one is found. Maybe you could program a dictionary attack? Then loop over each word in this list, passing it to the decrypt method. Example: look for all combinations between 'ab' for example which should be 4. Would this be a more Pythonic way of writing it? I had the same thoughts, the program looks like it's doing what it should be in terms of extraction, maybe the zip file is at fault? Please do not illegal activity.
Next
Python: Cracking SSH server login via Dictionary Brute Force attack
I would like some feedback on this code if you don't mind please, thanks. PdfFileWriter for pageNum in range pdfReader. This script copies the exercises of the authority instagram android application and and sends request over tor so you are secure ,but if your tor installation is misconfigured then the blame is on you. The only thing I'd suggest is to break some of your longer statements up - such as your print statement at the end of your script - onto separate lines, with each separate line being indented. You see, there is no restriction limit on how much threads can be spawned at a time. Selecting the required form in the page: br.
Next